DEDICATED TO ALL VIETNAM ERA VETERANS


PROUD WARRIORS ALL!

"Those who do not do battle for their country do not know with what ease
they accept their citizenship in America." Dean Brelis, The Face of South Vietnam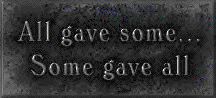 IN HONOR OF ONE WHO NEVER RETURNED
Captian Bobby Marvin Jones
US Air Force
Date of Birth: 05 May 1945
Home City of Record: Macon GA
Unit: Udorn Airfield, Thailand
Loss Date: 28 November 1972
Country of Loss: South Vietnam
Loss Coordinates: 161500N 1080000E (ZC065915)
Status (in 1973): Missing In Action
Category: 4
Acft/Vehicle/Ground: F4D
Refno: 1949
Source: Compiled from one or more of the following: raw data from U.S. Government agency sources, correspondence with POW/MIA families, published sources, interviews. Updated by the P.O.W. NETWORK in 1998.
Other Personnel In Incident: Jack R. Harvey (missing)
REMARKS:
SYNOPSIS: On November 28, 1972, Jack Harvey and Bobby Jones were flying an F4D Phantom jet on a non_ combat flight from their base at Udorn, Thailand to Da Nang, South Vietnam. The purpose of the mission was to log flight hours for Jones, the only Flight Surgeon missing from the Vietnam War, to maintain his Flight Surgeon status.
Shortly before arriving at Da Nang, when the aircraft was about 18 miles northwest of its destination, it disappeared from the radar screen without any voice contact. A few hours later, emergency signals were heard, but rescue efforts were hampered by monsoon rains and enemy held territory. When search teams were able to enter the area three days later, they did not locate the crew of the F4D. No further word has surfaced on either Harvey or Jones.
Examination of intelligence reports indicate that there was more than one prison "system" in Vietnam. Those prisoners who were released in 1973 were maintained in the same systems. If Jones was captured and kept in another system, the POWs who returned did not know it.
Now, over 30 years later, men like Jones are all but forgotten except by friends, family and fellow veterans. The U.S. "priority" placed on determining their fates pales in comparison to the results it has achieved. Since Jones went missing, over 6000 reports have been received by the U.S. that Americans are still being held captive in Southeast Asia. Whether Jones is among them is not known. What is certain, however, is that we, as a nation, are guilty of the abandonment of nearly 2500 of our best and most courageous men. We cannot forget, and must do everything in our power to bring these men home.

I watched the flag pass by one day.
It fluttered in the breeze.
A young Airman saluted it,
and the he stood at ease.
I looked at him in uniform,
so young, so tall, so proud;
with hair cut square and eyes alert,
he stood out in any crowd.
I thought how many men like him,
had fallen through the years.
How many died on foreign soil?
How many mother's tears?
How many pilots planes shot down?
How many died at sea?
How many foxholes were soldiers graves?
No freedom is not free.
I heard Taps sound one night,
when everything was still.
I listened to the bugle play,
and felt a sudden chill.
I wondered just how many times,
Taps had meant "Amen,"
when a flag had covered a coffin,
of a brother or a friend.
I thought of all the children
of the mothers and the wives.
Of the fathers, sons, and husbands,
with interrupted lives.
I thought about a graveyard,
at the bottom of the sea,
of unmarked graves at Arlington.
No, Freedom Is Not Free!
~AUTHOR UNKNOWN~
ORIGINATED IN 1971 BY THE NATIONAL LEAGUE OF POW/MIA FAMILIES
In 1971, Mrs.Mary Hoff, an MIA wife and member of the National League of American Prisoners and Missing in Southeast Asia, recognized the need for a symbol of our POW/MIAs. Prompted by an article in the Jacksonville, Florida TIMES-UNION, Mrs. Hoff contacted Norman Rivkees, Vice-President of Annin & Company which had made a banner for the newest member of the United Nations, the People's Republic of China, as a part of their policy to provide flags to all UN member nations. Mrs. Hoff found Mr. Rivkees very sympathetic to the POW/MIA issue, and he, along with Annin's advertising agency, designed a flag to represent our missing men. Following League approval, the flags were manufactured for distribution.
The flag is black, bearing in the center, in black and white, the emblem of the League. The emblem is a white disk bearing in black silhouette the bust of a man, watch tower with a guard holding a rifle, and a strand of barbed wire; above the disk are the white letters POW and MIA framing a white 5-pointed star; below the disk is a black and white wreath above the white motto YOU ARE NOT FORGOTTEN.
Concerned groups and individuals have altered the original POW/MIA Flag many times; the colors have been switched from black with white, to red/white/blue, to white with black; the POW/MIA has at times been revised to MIA/POW. Such changes, however, are insignificant. The importance lies in the continued visibility of the symbol, a constant reminder of the plight of America's POW/MIA'S.
On March 9,1989, a POW/MIA Flag, which flew over the White House on the 1988 National POW/MIA Recognition Day, was installed in the United States Capitol Rotunda as a result of legislation passed overwhelmingly during the 100th session of Congress. The leadership of both Houses hosted the installation ceremony in a demonstration of bipartisan congressional support. This POW/MIA Flag, the only flag displayed in the United States Capitol Rotunda, stands as a powerful symbol of our national commitment to our POW/MIAs until the fullest possible accounting for Americans still missing in Southeast Asia has been achieved.
On August 10,1990, the 101st Congress passes U.S. Public Law 101_355, which recognized the National League of Families POW/MIA Flag and designated it 'as a symbol of our Nation's concern and commitment to resolving as fully as possible the fates of Americans still prisoner, missing and unaccounted for in Southeast Asia. thus ending the uncertainty for their families and the Nation'. Beyond Southeast Asia, it has been a symbol for POW/MIAs from all American Wars.
The importance of the National League of Families POW/MIA Flag lies in its continued visibility, a constant reminder of the plight of America's POW/MIAs. Other than 'Old Glory', the POW/MIA Flag is the only flag ever to fly over the White House, having been displayed in the place of honor on National POW/MIA Recognition Day since 1982.
With the passage of Section 1082 of the 1998 Defense Authorization Act during the first term of the 105th Congress, 'POW/MIA Flag' will fly each year on:
Armed Forces Day - (Third Saturday in May)
Memorial Day - (Last Monday in May)
Flag Day - June 14
Independence Day - July 4
National POW/MIA Recognition Day- September 19
Veterans Day - November 11
The POW/MIA Flag will be flown on the grounds or the public lobbies of major military installations as designated by the Secretary of Defense, all Federal National Cemeteries, the National Korean War Veterans Memorial, the National Vietnam Veterans Memorial, the White House, the United States Post Offices and at official offices of the Secretaries of State, Defense and Veteran's Affairs, and Director of the Selective Service System.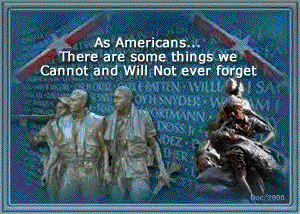 There's a wall of marble
Five hundred feet long -
Ten feet high, scribed with names
Of those who died, the strong.
There's more than fifty-eight thousand
Etched upon that stone -
Most of them died so young
This life, they've never known.
It's such a small tribute
To those who fought our war -
Such a small price we pay
To those who gave much more.
Their name carved in a rock
That most of us won't read -
Not near enough praise to give
For their most gracious deed.
Seems there's too many of us
Who don't really seem to care
That we stayed home secure and safe
While they died over there.
Remember when you see that Wall
With all those initials and names
That those men were only pawns
In one more of those deadly games.
Let's hope what they gave had meaning -
And that peace will always reign -
That we won't have to send our young
To fight and die again.
by Del "Abe" Jones
used by permission of the author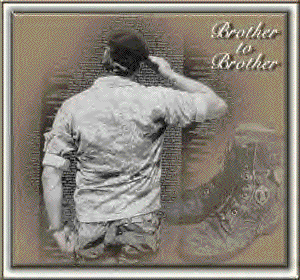 Some veterans bear visible signs of their service:
a missing limb, a jagged scar, a certain look in the eye.
Others may carry the evidence inside them: a pin holding
a bone together, a piece of shrapnel in the leg -
or perhaps another sort of inner steel: the soul's
ally forged in the refinery of adversity.
Except in parades, however, the men and women who
have kept America safe wear no badge or emblem.
You can't tell a vet just by looking. What is a vet?
He is the cop on the beat who spent six months in Saudi
Arabia sweating two gallons a day making sure the armored
personnel carriers didn't run out of fuel.
He is the barroom loudmouth, dumber than five wooden planks,
whose overgrown frat-boy behavior is outweighed a
hundred times in the cosmic scales by four hours of
exquisite bravery near the 38th parallel.
She - or he - is the nurse who fought against futility
and went to sleep sobbing every night for
two solid years in Da Nang.
He is the POW who went away one person and came back another -
or didn't come back AT ALL.
He is the Quantico drill instructor who has never seen combat -
but has saved countless lives by turning slouchy, no-account
rednecks and gang members into Marines, and teaching them to
watch each other's backs.
He is the parade - riding Legionnaire who pins on his ribbons
and medals with a prosthetic hand.
He is the career quartermaster who watches the
ribbons and medals pass him by.
He is the three anonymous heroes in The Tomb Of The Unknowns,
whose presence at the Arlington National Cemetery must forever
preserve the memory of all the anonymous heroes whose valor
dies unrecognized with them on the battlefield
or in the ocean's sunless deep.
He is the old guy bagging groceries at the supermarket -
palsied now and aggravatingly slow - who helped liberate a
Nazi death camp and who wishes all day long that his wife were
still alive to hold him when the nightmares come.
He is an ordinary and yet an extraordinary human being -
a person who offered some of his life's most vital years in
the service of his country, and who sacrificed his ambitions
so others would not have to sacrifice theirs.
He is a soldier and a savior and a sword against the darkness,
and he is nothing more than the finest, greatest testimony on
behalf of the finest, the greatest nation ever known.
So remember, each time you see someone who has served our country,
just lean over and say Thank You. That's all most people need,
and in most cases it will mean more than any medals they could
have been awarded or were awarded. Two little words that mean a lot,
"THANK YOU."
Father Denis Edward O'Brien, USMC

"If you are able, save for them a place inside of you and save one backward glance when you are leaving for the places they can no longer go.
Be not ashamed to say you loved them, though you may or may not have always. Take what they have taught you with their dying and keep it with your own.
And in that time when men decide and feel safe to call the war insane, take one moment to embrace those gentle heroes you left behind."
Major Michael O'Donnell
KIA March 24, 1970 - Dak To, Vietnam
"Never again will one generation of veterans abandon another"
1966-70 1975-90 1991-95
Veterans Still Serving America

"No person among us desires any other reward for performing a brave and worthy action, but the consciousness of having served his nation."

Joseph Brant, Mohawk